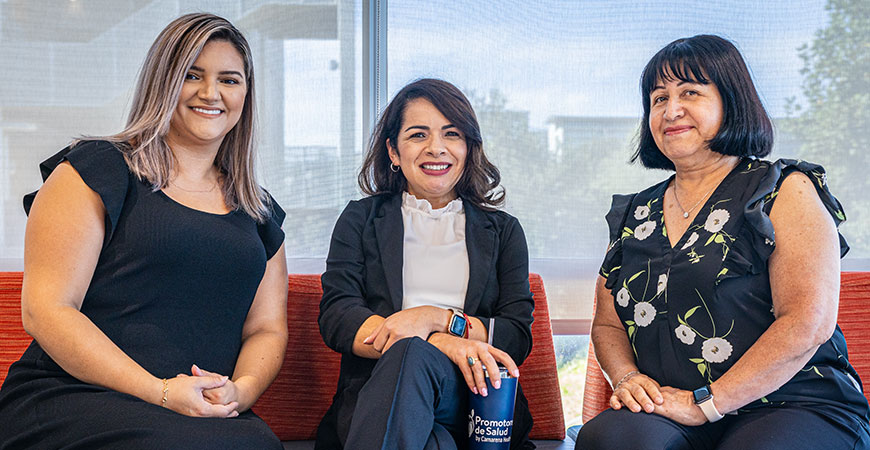 UC Merced was recently awarded a significant grant from Genentech, a member of the Roche group, to create the UC Merced Center for Health Equity. The initiative will focus on eliminating health disparities and advancing health equity throughout the San Joaquin Valley, particularly among the region's Hispanic, Latinx, immigrant and rural communities.
Led by Principal Investigator and Project Scientist Rosa Manzo, Ph.D., the Center will implement a community-engaged collaboration model that aims to facilitate and improve communication and engagement among health professionals and the communities they serve.
Through the support of the $1 million grant, the Center will invest in training and promoting community health workers – or promotoras – who will not only assist in addressing cultural gaps and understanding between patients and health care providers but will also participate as co-researchers and policy advocates for issues related to local health disparities.
Manzo and her team are launching the Promotora and Community-Based Education Model in Merced, Tulare and Madera counties in conjunction with agency partners Kaweah Health, Golden Valley Health Centers and Camarena Health. Together, the partners are preparing volunteers and agency staff members to fill the roles of community health workers by training them in such core competencies as service coordination and navigation, outreach, public health principles and social determinants of health.
Manzo said the uniqueness of this model is that promotoras will have the opportunity to directly assist with research efforts on projects of interest to them. Through their status as UC Merced affiliates, they will have access to training and resources that enable them to participate in various research activities, including data collection and analysis, survey administration, and Spanish-language feedback and input.
"There are a handful of these models, which are mostly centered around outreach and engagement efforts," said Manzo. "Our promotoras will be involved in data dissemination, research design and research materials. They are participating as researchers and contributing to every aspect of the research process."
"The cultural element offered by the promotoras is critically important," added UC Merced Health Sciences Research Institute Executive Director Trevor Hirst. "They are affecting their communities because the way they communicate is different, and that is bringing the community up as a whole."
Camarena Health Community Engagement Manager Claudia Chavez has observed the positive effects of the work for both the volunteers and the community members.
"The project not only empowers the promotoras with the tools and resources to help people in their communities, but also makes a tremendous impact on the participants' lives in managing their health conditions," she said. "To be able to watch promotoras share their stories of the impact they have made on participants' lives is immeasurable."
This latest grant from Genentech is a continuation of its commitment to Manzo's community-engaged research, with a prior grant contributing support to her project "Promotoras and Community Based Education." That grant, totaling nearly $500,000, provided funding for the initiative that paired community health workers and medical students in the UCSF San Joaquin Valley Program in Medical Education (SJV PRIME) to address asthma-related health disparities and deliver asthma-management education to the Valley's underserved populations.
Maria Meraz, who participated in the initial project and will continue serving as the lead promotora at Camarena Health, noted the impact of the work on the local community.
"It was satisfying to know that this collaboration allowed us to bring information to minority communities," she said. "The comments we received were positive, and people were happy to receive education from promotoras because they inspired confidence."
"We are deeply grateful to Genentech for its exceptional investment in UC Merced and Manzo's work to address health inequities by promoting community health workers whose cultural and linguistic competencies help engage the diverse individuals and families of our region," said UC Merced Vice Chancellor and Chief External Relations Officer E. Edward Klotzbier. "We look forward to finding new opportunities for collaboration that build on and further grow these important efforts."
Genentech's $1 million grant is among the pivotal philanthropic gifts that are advancing Boldly Forward: The Campaign for UC Merced. Boldly Forward aims to raise $200 million over the next decade, with gifts and pledges received since the campaign's launch nearing $100 million.