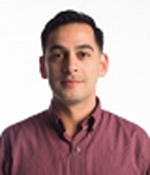 Professional Title:
Graduate Student in the Cisneros Lab
Education:
California State University, Fresno
B.A. in Psychology 
M.A. in general/experimental psychology
Awards:
Robert Wood Johnson Health Policy Fellowship
Bio:
Emanuel Alcala is currently investigating the neighborhood-level social and environmental determinants of pediatric asthma in the San Joaquin Valley. He aspires to bring health equity to the San Joaquin Valley by impacting policy through research focused in the region. Emanuel Alcala is also a current fellow of the Health Policy Research Scholars program funded by the Robert Wood Johnson Foundation.