Kristina Allen, Ph.D.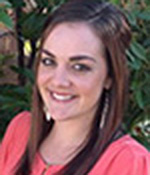 Email: kallen22@ucmerced.edu
Dr. Allen recevid a Ph.D. in Public Health. Her research interests include epidemiology, psychological disorder and suicidal behavior. Specifically, Kristina is interested in how adolescents' mental health is affected by their community and activities.
In 2012, Kristina graduated from the University of California, Merced with a B.A. in psychology. During her graduate studies in Developmental Psychology she studied learning disorders and how children with learning disorders process spatial information. 
Publications:
Gilger, J. W., Allen, K., & Castillo, A. (2016). Reading disability and enhanced dynamic spatial reasoning: A review of the literature. Brain and Cognition, 105, 55–65. http://doi.org/10.1016/j.bandc.2016.03.005
Goldman-Mellor, S., Margerison-Zilko, C., Allen, K., & Cerda, M. (2016). Perceived and Objectively-Measured Neighborhood Violence and Adolescent Psychological Distress. Journal of Urban Health. http://doi.org/10.1007/s11524-016-0079-0