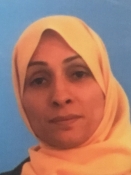 Professional Title:
Graduate Student in the Gonzalez Lab
Education:
Tehran University of Medical Science
 University of San Francisco..
Bio:
Zahra joined the Public Health doctoral program in spring 2017. She holds an MD degree from the Tehran University of Medical Science and worked as a physician in Iran. After moving to the United States, she earned her MPH degree from the University of San Francisco and worked as a volunteer and intern in resettlement agencies with a hope to improve families' health status and healthcare access after resettlement. Research Interest Zahra's primary field of research includes mixed methods research, migration health and particularly refugees' health. She is currently looking at the intersection of forced migration and religion on food and nutrition, women reproductive health, and family planning.