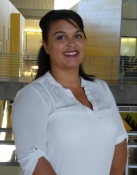 Professional Title:
Graduate Student in the Burke Lab
Education:
Westminster College
B.S. in Public Health 
A.S. in Biology
Bio:
Tashelle works with Dr. Nancy Burke in the Health Equity Research (HER) Lab. She is an McNair Scholar Alumni and a member of the Graduate Dean's Advisory Council on Diversity at UC Merced. Tashelle has worked for a health department in the Office of Health Disparities and as a Certified Nursing Assistant. Her pervious research includes a neuroscience study of the impact of anxiety on short-term memory and exploring health disparities of African Americans in Utah. As a PhD student, she is interested in aging and cognition, older adults, chronic disease and addressing preventable health disparities, specifically within African, African American and Hispanic/Latino populations. Her current research project includes qualitative research on older adult family caregivers in rural California. She is exploring food insecurity and social support/social networks, and the challenges and barriers to caregiving as well as the assets caregivers have and use, through interviews and focus groups. She was also selected as a UC Tobacco and Smoke-Free Fellowship recipient for a group research project with fellow Her Group members Andrea Lopez, MPH and Jazmine Kenny, B.A.