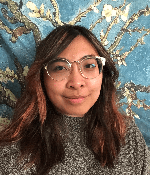 Professional Title:
Graduate Student in the Goldman-Mellor Lab
Education:
California State University, Fullerton
B.A. in Communicative Disorders 
Bio:
Shaina Sta. Cruz, MSPH, is a Ph.D. candidate in Public Health. Shaina completed her B.A. at California State University, Fullerton, and she has developed her knowledge of community health issues and social justice through advocacy work and hands-on service-learning experiences throughout the Central Valley. With a focus on health disparities, Shaina is interested in studying violence victimization, social adversity, and mental health. Her dissertation will examine trends in maternal morbidity related to violence victimization, as well as health and human services utilization among women who are victims of violence. Additionally, Shaina has cultivated her skills as a statistician and educator by helping to develop and deliver new statistics courses and training for the Public Health department. Recently, she was awarded the UC President's Pre-Professoriate Fellowship and the California State University Chancellor's Doctoral Incentive Program, both of which will build upon her academic and professional experiences in research, teaching, and service. Ultimately, she aims to earn a faculty position at a state university and mentor student researchers.