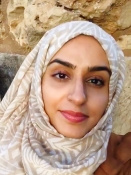 Professional Title:
Graduate Student in the Gonzalez Lab
Education:
Universiti Utara Malaysia
B.B.A with a concentration in Marketing
Bio:
Sarah is a doctoral student in the Social Determinants of Health Lab, under the advisement of Dr. Mariaelena Gonzalez. Prior to joining the program, she worked as a research associate focusing on the status of flavored tobacco regulation in California. She is currently working as a GSR, training undergraduate students on tobacco control advocacy and community outreach. Sarah's research interests include minority and immigrant health, particularly in relation to tobacco use, as well as the social, historical and political contexts pertaining to tobacco control. Aside from her interest in public health, Sarah enjoys travelling, meditation, cooking and spending time with her husband and two daughters.