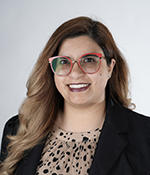 Professional Title:
Graduate Student in the Díaz Rios Lab
Education:
University of California, Merced
B.A. in Spanish
B.A. Public Health
B.A. Psychology
California State University, Long Beach
M.P.H. emphasis Community Health Education
Awards:
CARE-UC Innovation Fellowship 2020 USDA HSI Farmers 2023-2024
Bio:
Kimberly Sanchez's primary research interest is obesity prevention among Latino populations. Her research consists of viewing personal, interpersonal, and environmental factors that impact diet quality and food insecurity. With her research, she hopes to be able to provide policy and programmatic recommendations to improve access to healthier food items and to improve the health of the Latino community.