Public Health graduate training is designed to promote and protect health in the San Joaquín Valley and the world through research and action, including preparing the next generation of public health professionals and leaders. Public Health at UC Merced is a vibrant and collegial intellectual community, marked by outstanding scholarship and participation in interdisciplinary communities of inquiry.
UC Merced and the Public Health Ph.D. program are committed to the success and support of our graduate students. All admitted doctoral students receive generous funding packages, and with the lowest cost of living across the UC system, funding stretches further at UC Merced — allowing our students to focus on research and a timely completion of degree. We welcome applications from students from non-traditional backgrounds, including first-generation students, those from minoritized racial/ethnic and cultural backgrounds, and neurodiverse students. We have provided in-depth resources to help prospective students understand and navigate the process of selecting and applying to graduate school.
View the Public Health digital brochure
To apply, visit the UC Merced Graduate Division website.
For other inquiries please contact our Graduate Group Chair, Professor Andrea Joyce at ajoyce2@ucmerced.edu.
Current Graduate Students
Graduate students training with Public Health faculty are enrolled in diverse UC Merced degree programs and have a broad range of backgrounds, experiences, and interests. Read about them on their student homepages.

Public Health Ph.D. Student Discusses Latest Research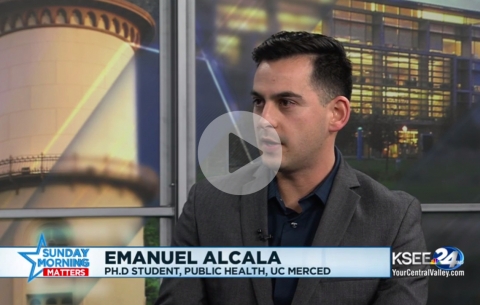 UC Merced Ph.D. student and Robert Wood Johnson Foundation Health Policy Research Scholar Emanuel Alcala sits down with KSEE24's Evan Onstot to discuss his 2017 study examining the link between neighborhood-level poverty and poor health.