Research
How Public Health Research at UC Merced is Making a Difference
There is no single solution to the health problems facing society, but the Public Health researchers at UC Merced are working to address some of the pressing issues facing the people of the San Joaquin Valley (SJV) of California. Researchers at UC Merced strive to ensure that health research focuses on problems and issues that are high priorities in the SJV, is conducted in a way that is acceptable to the community and providers, takes a participatory approach that builds capacity in the community, is translated into practice and/or policy, and is communicated to the relevant parties to increase health literacy.
Public Health Ph.D. Student Discusses Latest Research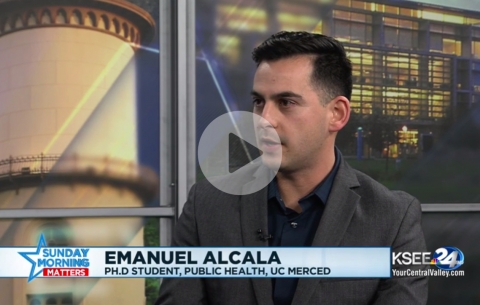 UC Merced Ph.D. student and Robert Wood Johnson Foundation Health Policy Research Scholar Emanuel Alcala sits down with KSEE24's Evan Onstot to discuss his 2017 study examining the link between neighborhood-level poverty and poor health.