Graduate Study
Our Public Health Graduate Program
UC Merced was established in the San Joaquin Valley in part to address the health disparities that exist in the region. The Public Health faculty at UC Merced are building a vibrant and collegial intellectual community, marked by outstanding scholarship and participation in interdisciplinary communities of inquiry. Our goal is to foster scholarly excellence in Public Health, with a specific focus on three topical areas: prevention sciences, environmental health, and health services.
To learn how to apply, visit our How Do I Apply? page. For other inquiries please contact our Graduate Group Chair, Professor Paul Brown, at pbrown3@ucmerced.edu.
Current Graduate Students
Graduate students training with Public Health faculty are enrolled in diverse UC Merced degree programs and have a broad range of backgrounds, experiences, and interests. Read about them on their student homepages.

Public Health Ph.D. Student Discusses Latest Research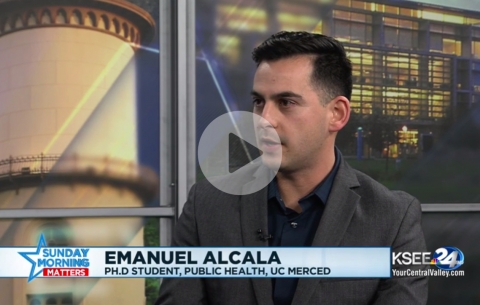 UC Merced Ph.D. student and Robert Wood Johnson Foundation Health Policy Research Scholar Emanuel Alcala sits down with KSEE24's Evan Onstot to discuss his 2017 study examining the link between neighborhood-level poverty and poor health.