Graduate Study
Public Health
UC Merced was established in the San Joaquin Valley in part to address the health disparities that exist in the region. The Public Health faculty at UC Merced are building a vibrant and collegial intellectual community, marked by outstanding scholarship and participation in interdisciplinary communities of inquiry. Our goal is to foster scholarly excellence in Public Health, with a specific focus on three topical areas: prevention sciences, environmental health, and health services.
 
For inquiries please contact our Graduate Group Chair, Professor Paul Brown, at pbrown3@ucmerced.edu.
Current Graduate Students
Graduate students training with Public Health faculty are enrolled in diverse UC Merced degree programs and have a broad range of backgrounds, experiences, and interests. Read about them on their student homepages.
 
How to Apply
 
The application deadline for Fall 2018 admission is January 15, 2018.
 
Our graduate program is a mentor based system, meaning that you will work with a faculty member during your first two years on a research project of mutual interest. To be admitted, you must meet the requirements of the Graduate Division and have a faculty member who is interested in working with you. This faculty member will be your mentor during the first two years.
 
Step 1 - Review faculty descriptions and their individual websites, particularly their research and teaching interests. Identify which faculty have interests that match your own. 
 
Step 2 - Contact the faculty members whose research interests coincide with your own. You can contact more than one faculty member.
 
Step 3 - Apply for admission through UC Merced's Graduate Divison. Details and online application forms are available on the  Graduate Division website.
 
Step 4 - When you submit your application, make sure to indicate in your cover letter the faculty member or faculty members who you are interested in working with.
 
If you have any questions, please contact our Graduate Group Chair, Professor Paul Brown, at pbrown3@ucmerced.edu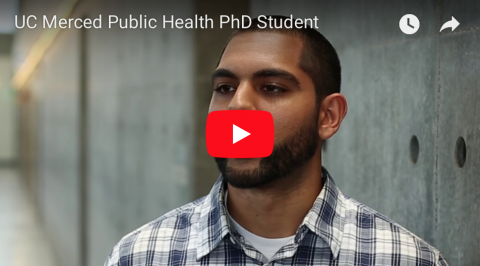 See why Ravi Singh choose UC Merced to gain a PhD in Public Health