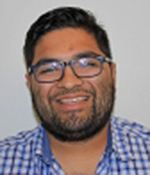 Professional Title:
Graduate Student in the Wooding Lab
Education:
University of California, Merced
B.S. in Biological Sciences with an emphasis in Molecular Biology
Bio:
Vicente Ramirez entered into the Public Health doctoral program in Fall 2016. His prior experience involved topics within evolutionary genetics. His research interest are concentrated within the fields of population genetics and genetic epidemiology. Vicente is particularly interested in exploring genetic diversity within and between human populations, and the effects genetic variations have on behavioral traits such as tobacco usage and dietary preferences.