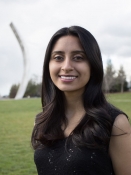 Professional Title:
Graduate Student in the Gonzalez Lab
Education:
 University of Calfornia, Irvine
B.S. in Public Health Science
B.A. in Public Health Policy
California State University, Fullerton
M.P.H. in Health Promotion and Disease Prevention
Bio:
Harman is a Ph.D. student in Public Health at UC Merced. Prior to joining UC Merced, she worked as a Project Manager for an NIH Big Data program and as a Research Fellow at NYU- Center for South Asian American Health.