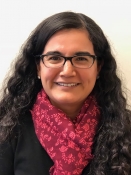 Professional Title:
Graduate Student in the Brown Lab
Education:
Universidad de Guadalajara in Mexico
California State University, Fresno
Master's degree in Public Health Policy and Management with honors
Bio:
Gilda is a doctoral student in the Public Health program at UC Merced. Her current work is focused on health economics under the mentorship of Dr. Paul Brown. Her research interests include cost of illness studies and environmental economics, discreet choice experiments and behavioral economics, access to care, elasticity of demand, and health outcomes inequities. Prior to joining the PhD program, Gilda spent 16 years working in the Central San Joaquin Valley region for Native American Health Center, Tulare County Health and Human Services Agency, Fresno County Behavioral Health Department, CSU Fresno Foundation, Tulare Regional Medical Center, and most recently at the Madera County Public Health Department.