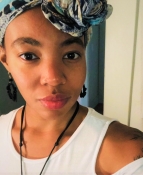 Professional Title:
Graduate Student in the Goldman-Mellor Lab
Education:
University of North Carolina at Pembroke
B.S. in Enviromental Science 
Minor in Biology 
Bio:
Carlisha Hall entered the Public Health PhD program in the fall of 2018. Prior to joining the program, Carlisha completed an AmeriCorps program with the U.S. Fish and Wildlife Service. She has a post-baccalaureate certificate from the National Institutes of Health, where she worked on research examining the influence of the social environment on attention-deficit and hyperactivity disorder (ADHD) outcomes. She is interested in the intersections of physical and mental-health. As well as the role of environmental factors on mental-health.