Kathleen Gali
PhD Program: Public Health
Email: kgali@ucmerced.edu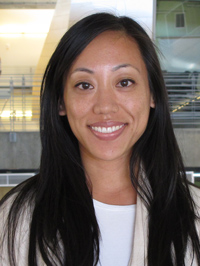 Kathleen is a doctoral student in Public Health at the University of California, Merced. Prior to joining UC Merced in 2013, she worked as a research associate at the University of California San Francisco and at the Cancer Prevention Institute of California. She holds a BA in Psychology and a MPH with a concentration in Community Health Education.
Research Summary
Kathleen's primary research interests are in health disparities in tobacco use and chronic diseases. Her current projects involve mapping geographic differences in cancer stage of diagnosis, examining the disparities in smoking initiation in young adults, and exploring the effect of emotions on perceptions of risky behavior.
Publications
Keegan THM, Kurian AW, Gali K, Tao L, Lichtensztajn DY, Hershman DL, Habel LA, Caan BJ, Gomez SL. Racial/ethnic and socioeconomic differences in short-term breast cancer survival among women in an integrated health system. Am J Public Health 2014, in press.
Cheng, I., Le, G.M., Noone, A.M., Gali, K., Patel, M., Haile, R., Wakelee, H., Gomez, S.L. Lung Cancer Incidence Trends by Histology Type among Asian American, Native Hawaiian, and Pacific Islander Populations in the United States, 1990-2010. Cancer Epidemiology, Biomarkers & Prevention, in press.
Young-Wolff, K.C., Hickman, N., Kim, R., Gali, K., Prochaska, J.J. (2014) Correlates and Prevalence of Menthol Cigarette Use among Adults with Serious Mental Illness. Nicotine & Tobacco Research. doi: 10.1093/ntr/ntu141
Kim, R., Hickman, N., Gali, K., Orozco, N., Prochaska, J.J. (2014) Maximizing Retention With High Risk Participants in A Clinical Trial. American Journal of Health Promotion, 28(4), 268-274.
Spaderna H, Gali K, Rausch L, Smits J, Weidner G. (2013). Depressive Symptoms At Time Of Wait Listing Are Associated With Reduced Survival After Heart Transplantation: Results From The Waiting For A New Heart Study. Transplant International, 2013; 26 (Suppl. 1), 35.
Prochaska, J.J., Gali, K., Miller, B., & Hauer, K.E. (2012). Medical Students' Attention To Multiple Risk Behaviors: A Standardized Patient Examination. J Gen Intern Med, 27 (6), 700-707. DOI: 10.1007/s11606-011-1953-9.