Chia Thao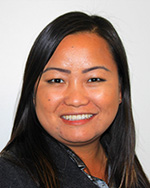 Email: cthao45@ucmerced.edu
Chia is a doctoral candidate in Public Health at the University of California, Merced. Prior to joining UC Merced in 2016, she worked as a lecture at the California State University of Fresno. She holds a BS in Health Science with a minor in Gerontology and a MPH with a concentration in Community Health Promotion.  She also earned two distinguish certificates in Health Policy and Nonprofit Management & Leadership at California State University, Fresno.       
Research Summary
Chia's research interests center on improving minority health disparities and promoting wellbeing.  As a PhD candidate at UC Merced, her current research focuses are in pesticide use and the wellbeing among small-scale farmers in the Central Valley. Her current projects involve assessing small-scale Asian farmers' attitude, knowledge and perception about the use of pesticide. 
Publications
MA Perez & C Thao.  Understanding barriers to prevention of ntshav qab zib/ ntshaav qaab zib: A Hmong perspective.  Hmong Studies Journals (2009): 1-23.